Delivering Joy Through Unsurpassed Service
When you need timber, the Zip-O-Log's team can promptly meet all customized construction needs.
The commitment to providing top quality 100% Douglas Fir products has remained true through recent upgrades to the mill, with which we can now provide custom orders up to fifty-two feet in length. Primarily known for its Timbers, Zip-O also cuts Posts, Joists, Stringers and Domestic Clears.

#1 & BTR
#1 Grade and Select Structural are the two top grades for strength, Zip-O also goes one step further and adds good appearance as well as strength – the wood has a denser ring count per inch and smaller knot size.

Free of Heart Center
The pith, or center of the log, is called the heart. The heart contains higher amounts of moisture, so when it is within a timber and begins to dry the piece gets more seasoning checks and potential twist that could be lessened by cutting out the heart center. It is optimal for exposed timber applications.

Timbers
Cuts out of the log that are 6 inches x 6 inches and larger – 6x6 through 12x12.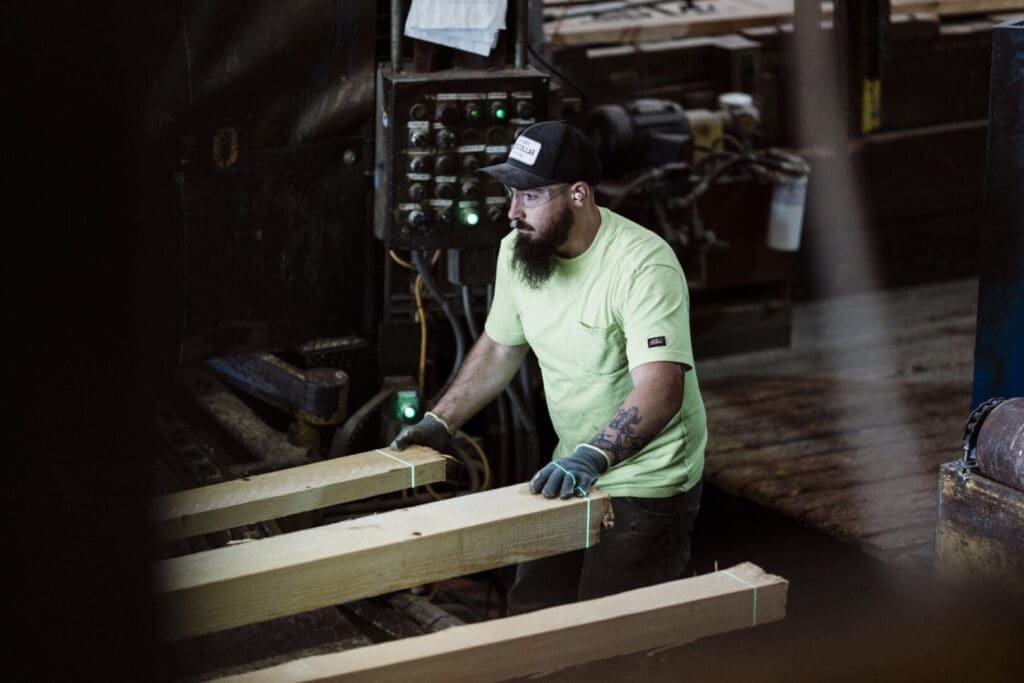 "Zip-O's quality, my relationship, and the ease of working with them are what have kept me purchasing from them."
"Zip-O saves me time and has good quality. I also have good relationships with salespeople and sawmill folks."
"What has kept me working with Zip-O is their customer service and their consistent quality."
"Quality is important to us because we just treat the wood, so we have to have a good quality product to start with. Zip-O's quality is good consistent quality. Square edge is important to our process as well, as we get that from Zip-O."
"Zip-O saves me time because they are easy to work with and they have a very fast response time. Their willingness to work with me on tallies has helped our efficiencies in getting what we need to do done in a timely manner."
"Zip-O is in the top 5 of all of suppliers. They are well above average."
"I have worked with Zip-O for over 20 years and I like the quality of the product that they put out."
100% of every log is used.
Bark – sold to companies as "beauty bark" for landscaping.
Chips – sold as playground chips because of the high quality of chip.
Shavings – blueberry farmers, blueberries like the resin in the shavings and grow better.
Wood – low grade goes to pallet stock & concrete form up to the timbers which get installed in high appearance applications such as golf clubhouses and custom timber frame homes.
The products that drive us
With the capacity to produce up to 52′ in length, our products are produced for exposed structure applications, and we specialize in #1 & better, free of heart center timbers.
Sign up for our newsletter
Be the first to know about releases and industry news and insights.
We care about your data in our privacy policy.